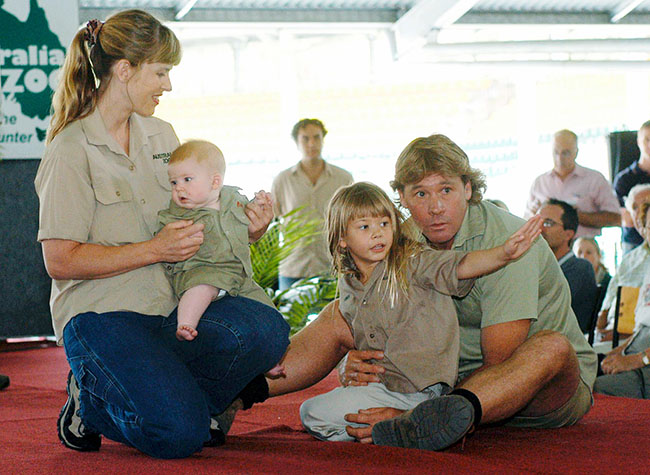 A 2004 photo of Terri Irwin, son Bob, daughter Bindi and Crocodile Hunter Steve Irwin on stage at Australia Zoo (AAP Image/Tony Phillips, File)
It's been 15 years since we lost crocodile hunter Steve Irwin and our collective heartbreak will never go away.
Neither, it seems, will the rumours of wife Terri Irwin being romantically linked with various high profile men including Russell Crowe, Richard Wilkins and most recently John Travolta.
Speaking to QWeekend recently for the anniversary of Steve's death, Terri made it clear that Steve was the love of her life and she is still "very, very, very single".
"I keep saying this, and I think maybe 15 years later people are finally starting to believe me, Steve was it for me," Terri said. "That's just the way it is. I had a big, big love and it was enough to last a lifetime."
The 57year-old says she's too busy to chase anyone anyway, what with running Australia Zoo and doting on granddaughter Grace Warrior Irwin Powell.
"You know, Grace is just pure joy, she's brought all the wonder back to us," Terri said.
"When I take her for our early morning walks, introducing her to all the animals, I see it all through her eyes, and it just takes me back to when I first came here, then Steve and I had the kids, it's full circle."
Can I stay right here forever? pic.twitter.com/9VrMNhol7l

— Terri Irwin (@TerriIrwin) November 7, 2021
Hiking in Cradle Mountain National Park with beautiful Grace Warrior. I am a lucky Grandma Bunny! pic.twitter.com/bnB4WGACwu

— Terri Irwin (@TerriIrwin) November 5, 2021
Bindi posted a tribute to her Dad on Instagram on Steve Irwin Day on November 15, writing: "Your legacy will live on forever. I love you for even longer."
Robert also posted a tribute, writing that he was "a truly amazing dad" that he still looks up to every day. "Through a lifetime captured on camera and stories from my family and those who knew him best, I'm able to remember the special times with dad."